Support for Families
This page contains a list of useful organisations that are there to help you, your child and your family, especially as the cost of living crisis worsens. However, if you need any further help or support, we are here for you.
Ridgeway is able to make referrals on your behalf to many organisations and charities, act as a donation and collection point for families needing hygiene products from the Hygiene Bank and is always on hand if you need someone to talk to. Please contact Miss Hammond (Emotional Literacy and Family Support Assistant) or Mrs Harris (SENDCO) via the school office for a confidential chat - just email or call the office and ask for either staff member to give you a call back - no other details are required.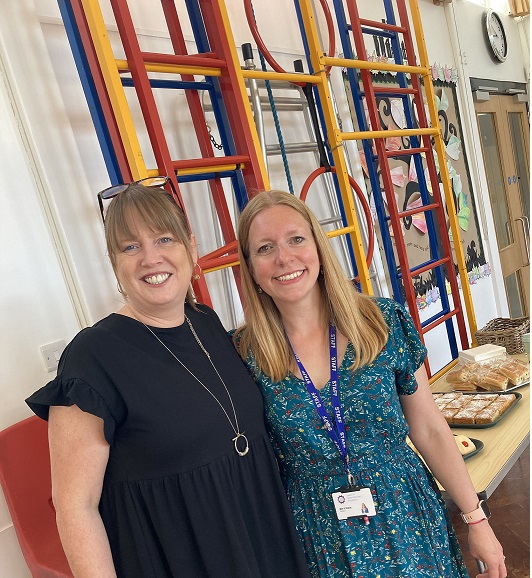 Miss Hammond - Emotional Literacy and Family Support Assistant.
"My role at Ridgeway is to provide support to children and their families. To help promote the development of children's self-reliance, self-esteem, and emotional resilience. I also support families by signposting and referring families onto other agencies that can help them access the services that they need to get the best possible outcomes."
Parental Contact and Family Support (Please click on the name of the organisation to visit their website)
Children and Family Wellbeing Services
Run by Leicestershire County Council. Provides early help services for families experiencing difficulties that can't be supported by services such as the GP or school

0116 305 8727

Parental Service request form can be found on their website

Home- Start South Leicestershire
Voluntary organisation supporting families with at least one child under 5 with pressures(e.g. illness or disability, mental health issues, family relationship breakdown, bereavement, financial hardship...)

01858 467 982

Family Lives
Family Lives provides targeted early intervention and crisis support to families regarding parenting, health and wellbeing, bullying, behaviour, school, separation, communication
This service welcomes self-referrals via 0808 800 2222
Special Educational Needs (SEN)
Autism Outreach Service
The Autism Outreach Service (AOS) is part of Leicestershire Local Authority's (LA's) Specialist Teaching Services. The Team offers support to children and young people with autism spectrum disorders (ASDs) aged 3-19 years, their schools and families.

0116 3059400

Leicestershire Autistic Society
The Leicestershire Autistic Society provides support, information and advice to families and professionals dealing with Autism in Leicestershire, Leicester City and Rutland.

0116 2916958

Email click here

ADHD Solutions
ADHD Solutions is an organisation based in Leicester, we are centrally placed to allow us to help families, and professionals anywhere, cope with the challenges of ADHD.

0116 2610711

SENDIASS
Special Educational Needs and Disability Information, Advice and Support Service (SENDIASS) Leicestershire, is a statutory service. We provide free, impartial and confidential advice and support to parents and carers of young people aged 0-25 with special education needs or disabilities as well as young people themselves.
0116 305 5614
Debt, Housing and Family Hardship
| | | |
| --- | --- | --- |
| Turn 2 Us | Turn2us helps people in financial need gain access to welfare benefits, charitable grants and other financial help – online, by phone and face to face through our partner organisations. | Contact them via their website - |
| CALS | The Community Advice and Law Service (CALS) is a not-for-profit organisation. Our services are free and we deliver advice in three areas of social welfare law: Debt, Housing and Welfare Benefits. | 0116 2421120 |
| Jubilee Foodbank | Free food service for those in need. Volunteer delivered. | Families can refer themselves via their website or ask Miss Hammond to refer you. Home | jubileefoodbank (jubileefoodbankmh.uk) |
| Trussel Trust | Nationwide network of foodbanks. Provide emergency food and support. | 01722 580 180 |
| Household Support Grant | Government scheme for one-off payments to support families in need. (Only to end of Sept 2022) | Contact via your GP or Citizens Advice based at the Council Building (Symington Building) in Harborough. |
Mental Health, Wellbeing and Bereavement
Young Minds
Young Minds are a mental health charity for children, young people and their parents, providing advice and guidance.

0800 802 5544

webchat available via their website - www.youngminds.org.uk

Laura Centre
Provides professional holistic support to bereaved families

0116 2544341

Winston's Wish
Supports bereaved children, young people and their families
0800 020 021
The Cube
Youth Groups, Wellbeing Services, Counselling. Christian ethos.

01858 437650

CAP (Mental Health Central Access Point)
Anyone needing mental health support for themselves or others can call this service on 0808 800 3302, 24 hours a day, seven days a week.
0808 800 3302
Solihull Approach
Online courses for parents and teens covering lots of aspects of growing up, dealing with emotions and understanding each other

0121 296 4448