Frequently Asked Questions
Q. When will my child start primary school?
Children usually start school in the September before they turn 5. (Please see here for the admissions process.) Once you have been offered your school place, we will invite parents/carers and our new children to visit our school during their final term at pre-school. This could be for a Teddy Bear's Picnic, Stay and Play session or Story Time. It usually takes place in June. Parents are also invited to an information meeting where they can meet the class teachers properly and be given an introduction to school life.
For the first two weeks of the new school term, our Reception children will be on a 'settling-in' timetable. They will start by doing mornings, followed by mornings and lunch and then full days. This gives the children the chance to adapt to the new routines without feeling overwhelmed.
Q. What time is school open from, and when does it close?
School starts: 8.45am
School finishes: 3.15pm
Wraparound care is provided from 7.45am until 8.45am and 3.15pm until either 4.30pm or 6pm (depending on your need)
Q. What does a typical school day look like for Reception children?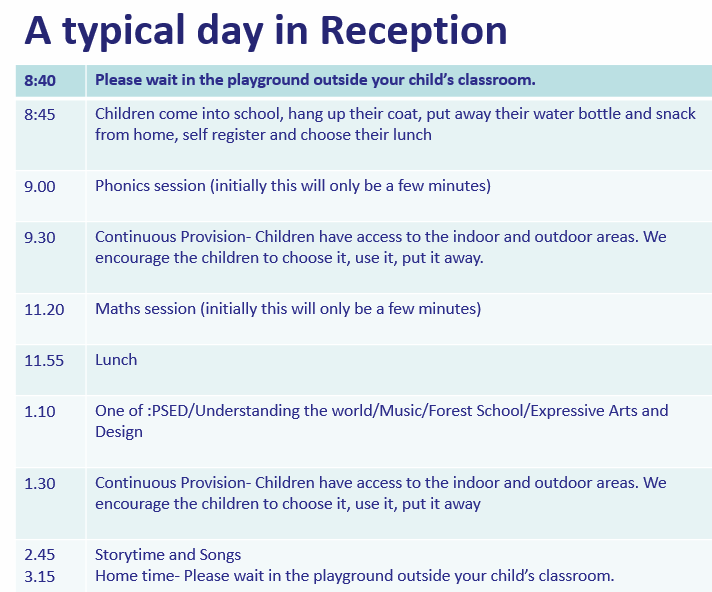 Q. What does EYFS, KS1 and KS2 mean?
These stand for Early Years Foundation Stage, Key Stage 1 and Key Stage 2 and relate to the different sections of the national curriculum. Each Key Stage covers different Year groups at school. EYFS covers Reception, KS1 covers Years 1 & 2 and KS2 covers years 3 - 6. It is often split into Lower Key Stage 2 (Years 3&4) and Upper Key Stage 2 (Years 5&6). When your child moves to Secondary school they will join KS3 (Years 7-9) and KS4 (Years 10-11).
Q. Do you provide a Breakfast Club or After School Club?
Yes we offer both. Breakfast Club opens at 7.45am and the children are provided with breakfast (e.g. toast, cereal, fruit) before being taken to their class at 8.45am. After School Club runs from 3.15pm until either 4.30pm or 6pm. If you choose the 4.30pm finish, your child will be provided with a snack (e.g. a biscuit). If they stay until 6pm, they will be provided with packed tea (e.g. sandwich, crisps, fruit, drink). Breakfast Club costs £4.50, After School Club until 4.30pm costs £5, After School Club until 6pm costs £10. The children will be allowed to play outside or stay in and choose games, crafts or other activities. All the sessions are run by our own staff. Places can be booked and paid for via ParentPay. For more information please see here
Q. Do you accept childcare vouchers for Breakfast Club or After School Club?
We accept childcare vouchers and are registered for the government tax free childcare scheme
Q. Do you offer a Summer Holiday Club?
Yes we do. The Club runs at Ridgeway for our own pupils and those at our sister school, Great Bowden Academy (sorry, we can not take siblings who are not at school with us). The Club usually runs for 3 weeks in August from 9-3pm and is run by our own teaching and support staff. We offer arts, crafts, dance, sports, treasure hunts and more. For further details and costs, please contact the Office.
Q. What other activities does school offer?
We run after school sports clubs with Mr Kadiri, our Sport Coach, (offered on rotation each half-term), we have a newly formed Football Team open to boys and girls in our older years, we have Gardening Club which runs on a Monday lunchtime (on rotation for different Year groups) and we are hoping to start a Craft Club very soon.
Q. How many days a week does my child have PE?
Children in Reception will have PE once a week. Across the rest of the school they will have, on average, two sessions of PE a week. They will need to come to school in their PE kits on their PE days. If they choose to take part in a sports club, they will also need to come to school in their PE kit on that day.
Q. How many sets of school uniform will I need?
Our parents have suggested having one PE top for each PE lesson (if your child has two PE lessons a week, order two PE tops). They have also recommended two logoed navy tops and two or three logoed white t-shirts to begin with. "You can always order more, and it means you won't have uniform in the cupboard your child will grow out of too quickly." Through FORA (our PTA), the school runs pre-loved uniform sales once or twice a year. For the full uniform policy, please see here
Q. What is PPA and Swap Around Time?
PPA stands for Planning, Preparation and Assessment time. It is time allocated to teachers to ensure they can plan their lessons and mark work as needed. During this time, classes will often have their PE lessons with Mr Kadiri, French with Mrs Cutler or PSHE with one of our Teaching Assistants. (The children will often refer to this as Swap Around Time)
Q. Does my child have to have all packed lunches or all school dinners?
No. We send out the school menu at the beginning of the year, and it lists all the choices on a 3-week rotation. Every morning the teacher will ask each child what they would like for lunch. If it's packed lunch, their lunch box is placed on the class trolly. If it's school dinner, they will be asked if they'd like the 'red' or 'green' option (meat or vegetarian as listed on the menu). The child will be given a wristband in the corresponding colour to wear into lunch; this will notify the kitchen staff of their choice. Children in Reception, Year 1 and Year 2 are entitled to a free school dinner, but they can choose to bring in a packed lunch if they prefer. For children not entitled to a free school dinner, the cost is £2.55 per meal (from Sept 2023) and payable via ParentPay. For more information please see here
Q. What does my child need to bring to school each day?
In general your child should only need to bring their school reading book and reading log book (if they've been given one), water bottle, snack and packed lunch (if applicable) - please remember we are a Healthy School with a 'no nuts' policy. As they get older, they may choose to bring a pencil case or something to play with at lunch, but please check with the class teacher as to what is appropriate.
Q. What time is lunch, and when will my child eat?
Lunchtime takes place between 11.55am-1.05pm. Children in Reception always have 'first' lunch, entering the Hall at 12, shortly followed by Year 1 and Year 2 children. Children in Years 3-6 will be called into the Hall on their dinner bell. These start at 12.10pm and are called at 10 minute intervals; the order changes every few weeks. Before their bell goes, the children will be on their playground; returning to this area once they have finished eating. Early lunches are available for children taking part in lunchtime clubs.
Q. Is there a breaktime?
Yes. We have a morning break at 10.45am for 15 minutes. This is where the children can play, eat their snacks and get fresh air mid-morning.
Q. Can my child go to the toilet when they need it?
Yes. If a child needs the toilet, they can go to the toilet by asking the teacher/staff member. We do however encourage children to use the toilet at break and lunchtimes to ensure lessons are not disrupted too much. If you have any concerns relating to your child and their toileting needs, please speak to your class teacher.
Q. How do you deal with 'bad' behaviour, bullying or emotional needs of the children?
We have lots of strategies in place to support children with their emotional wellbeing. We have our own SENDCO and Emotional Literacy & Family Support Coordinator who works with children to boost confidence, manage their feeling and offer families support as needed. We have a Sensory Room, Boost Room and outdoor spaces which can be utilised as needed.
We do a lot of work educating our children about bullying, being kind and how to have healthy friendships. We have in-class systems to reward good behaviour and help children recognise when their actions are not accepted (Traffic Light System). Children are encouraged to demonstrate the Ridgeway Values and through our Gold Awards, great character powers are recognised and celebrated in Assembly every Friday. If you are ever concerned about behavioural issues, please speak to your class teacher or make an appointment with the Head of School via the Office.
Q. What happens if I am unable to collect my child?
If you can not collect your child and would like someone else to, please contact the Office explaining who will be collecting them. We can not release a child unless we know who the responsible adult is. If you are using an after school provider like Castle Lane Day Nursery or Caterpillar Day Nursery, please inform school via the Office. Children in Years 5 & 6 can walk home on their own, if the school is notified by the parent/carer first.
Q. Can I get involved with school life?
Yes. We would be delighted to welcome you as a Sports Club Volunteer, Reading Volunteer, Forest School Volunteer or Gardening Club Volunteer. You will be asked to provide a current DBS certificate if you have one. If not, school will carry out the checks on your behalf. You can also support via FORA, our PTA and help out with fundraising events. We also have ad hoc opportunities for parents to support on class trips - please chat to your class teacher for more information.
Q. Is there lots of homework?
From Reception upwards, we expect our children to read at home to their parents/carers most nights. Depending on their reading level, they will be given school books (linked to the phonics sounds they are learning) to borrow. These will be changed regularly, and the children will be listened to during class time. As they get older they will become 'free readers' where they can choose the book they'd like to read - we have lots of reading material to borrow, and every classroom has a book corner. We ask parents to log their reading progress via an App called Go Read (details will be provided by your class teacher).
The children will also be given access to Times Tables Rock Stars and Read Theory as they progress up the school - these can be accessed online and support children to learn their times tables and expand on their reading comprehension. Each child is also given their own MS TEAMS log in which is used by class teachers to set occasional homework linked to the topics being studies.
Q. I'm interested in a mid-year transfer, what do i do?
Please contact the Office (01858 465 800) to express your interest, and they will be able to check our enrolment numbers to see if we have spaces in you child's year group. At the same time they can book you in for a tour of the school with the Head. Once you have applied to the Local Authority and been given a place, we will welcome your child into school. We will work to ensure they have a 'class buddy' to help them settle in and ensure your new class teacher can spend some time getting to know you all.
Q. Do you have Class WhatsApp groups?
There are Class WhatsApp groups, however these are not organised by school. They are often created by parents in each Class. School communicates directly with parents via email, text (SMS) message, Facebook and Instagram. FORA (our PTA) also has its own Facebook page which can also be used by parents seeking additional information.